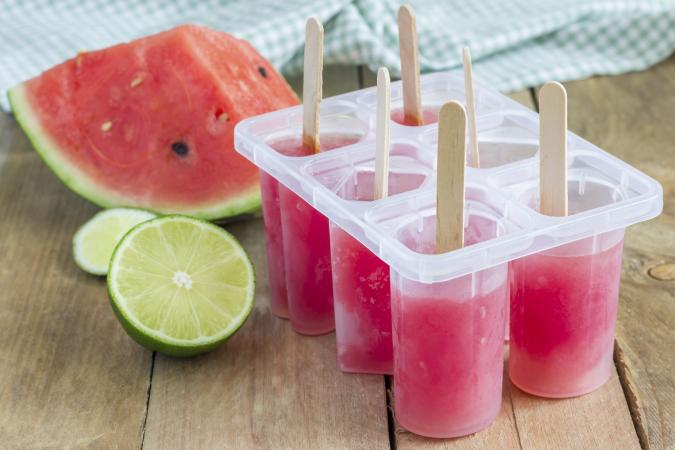 Discovering the best snack hacks is a must when you want to avoid boredom eating without breaking the bank or expanding your waistline. Whether you want to cut calories, curb salt cravings, find quick snacks when you're on the go, need creative party food ideas, or simply want more excitement in your life, these simple hacks will get you results.
1. Freeze Your Fruit
Because fruit is packed with essential nutrients and has its own food group, you know you should be eating it. Adults should aim for 1 1/2 to 2 cups of fruit daily, suggests the U.S. Department of Agriculture. However, if you're bored out of your mind with plain old fruit, try freezing it! Eat frozen grapes, blueberries, avocados, melon cubes, mango slices, or bananas. Try coating bananas, blueberries, or strawberries with yogurt or dark chocolate before freezing. While not a fruit, protein-rich edamame also makes a refreshing frozen snack.
2. Choose Homemade Sorbet
If you're an ice cream lover but need to cut calories, make your own frozen fruit sorbet. The National Heart, Lung, and Blood Institute recommends replacing ice cream with sorbet as a way to maintain a healthy weight. Blend bananas, mangos, melons, strawberries, watermelon, or any other favorite fruit with a little fruit juice and freeze to create a mouth-watering sweet treat. Try heart-healthy avocado sorbet by freezing blended avocados mixed with low-fat cow's milk or almond milk and honey. Freeze homemade sorbet on a stick to make popsicles that are even more fun to eat.
3. Make Room for Protein Smoothies
Make snacking convenient, especially when you're on the go, by drinking your snack instead of eating it. The Academy of Nutrition and Dietetics notes protein powders are great for convenience - especially for athletes always on the go. Try protein smoothie recipes, almond milk protein shake recipes, liquid diet supplements, or customize a recipe by mixing and matching from the following ingredient list:
Protein-fortified almond milk
Low-fat cow's milk
Soy milk
Peanut, almond, or cashew butter
Sliced almonds
Fruit
Yogurt
Honey
Matcha green tea powder
Whey protein powder
4. Yummify Greek Yogurt
You may know Greek yogurt is often called the "healthy yogurt" because of its high protein and lower carb content. One 2014 study found eating at least three servings of yogurt weekly reduced unwanted weight gain, especially in the abdomen. However, if you're getting bored with the same old Greek yogurt, yummify it by trying the following hacks.
Make Greek frozen yogurt popsicles for the kids.
Add pumpkin puree and pumpkin spice to plain Greek yogurt.
Top yogurt with fruit, nuts, granola, oatmeal, honey, or cinnamon.
Mix yogurt with nut butter to make a fruit dip.
Add oatmeal or peanut flour, honey, vanilla extract, and dark chocolate chips to Greek yogurt to create a cookie dough-flavored sweet treat.
5. Replace Potato Chips
It's true potatoes are vegetables, but that doesn't mean snacking on potato chips is a good idea when you're trying to watch your waistline and reduce disease risks, notes the American Heart Association. Kick salt cravings to the curb with healthier replacements for potato chips. Instead, choose veggie chips, veggie straws, or make your own carrot or kale chips at home. Salted nuts, turkey jerky, pretzels, and popcorn are also excellent choices when you're in the mood for something salty. Make guilt-free nachos by topping baked corn chips with shredded chicken, low-fat shredded cheese or crumbled feta, black beans, diced tomatoes, diced onions, and avocado slices.
6. Make Your Own Coffee Drinks
If you need a daily morning latte fix but hate paying an arm and a leg at coffee shops, make your own coffee drinks instead to save money. Forbes.com suggests you can save $1,200 yearly on coffee costs just by making your morning coffee at home. Try a homemade pumpkin spice latte, pumpkin spice cappuccino, or homemade iced coffee instead of heading to Starbucks. Your wallet will thank you.
7. Dip Fruits and Veggies
If you know you and your kids should eat more fruits and veggies but can't choke down as many servings as you need, try dipping fruits and vegetables to make the experience more enjoyable. The U.S. Department of Agriculture suggests adults need two to three cups of vegetables daily. Dip veggies in hummus, yogurt, guacamole, or peanut butter. Mayo Clinic suggests trying a savory vegetable dip recipe. Dip fruit in honey, peanut butter, almond butter, cashew butter, yogurt, or yogurt mixed with peanut butter. Or, drink your veggies by choosing vegetable juice to get in one last veggie serving when you're on the go.
8. Go Low-Carb to Shed Pounds
Did you know going low carb has been shown to help lose weight in several studies? One study published in 2014 found low-carb dieting (less than 40 grams of carbs daily) led to greater weight loss, fat loss, and reductions in heart disease risk factors than low-fat dieting. If weight loss is your goal, choose low-carb foods as your next snack hack. Examples of low-carb options include:
Hard boiled eggs
Turkey jerky
Nuts
Plain Greek yogurt
Reduced-fat cheese
Cottage cheese
Olives
Pickles
9. Make Friends With Fiber
If you've noticed added fiber starting to appear in commercial snack items, it's for good reason. Fiber helps fill you up, aids in weight control, helps regulate blood sugar, and lowers heart disease risks, according to one 2009 review. Replace traditional snacks with those that are fiber-rich, such as high-fiber cereals, fiber-fortified granola bars, fiber-fortified yogurt, fruits, vegetables, fiber-fortified soy milk, popcorn, nuts, seeds, and legumes. Or, sprinkle psyllium powder or flax seeds on cereals, oatmeal, yogurt, or in protein smoothies to bump up your fiber intake.
10. Roast Nuts and Seeds
Though you know they're good for you, you might be tired of eating the same old boring nuts and seeds. If so, roast them yourself and add flavorful ingredients. Choose a standard roasted nut or seed recipe with the option to change things up with barbecue, cinnamon sugar, Italian seasoning, pumpkin spice, bacon flavor, honey, or smoked flavor depending on your mood. Mayo Clinic and the American Heart Association suggest eating four servings of nuts (a small handful) weekly. You can even roast chickpeas!
Snack Hacking Advice
When choosing snack hacks, pick those that benefit your health in some way, have a convenience factor, or save you money, but still make your mouth water. Boring snacks will be a thing of the past, and your wallet and waistline will thank you.