In addition to controlling blood sugar, hypoglycemic snacks can provide you with other health benefits. Protein and fiber (key components of hypoglycemic snacks) aid in healthy weight management and boosting fiber lowers your risk for heart disease; just one more reason to choose hypoglycemic snacks on a regular basis.
1. Cottage Cheese Dip
Dipping veggies or whole-grain crackers in protein-rich cottage cheese dip for your next snack helps regular blood sugar because of the snack's protein, fiber, and complex carbohydrate content. This simple, but delicious, healthy snack dip contains a combination of low-fat cottage cheese, low-fat ranch dressing, dill, garlic salt, and pepper, and will leave you coming back for seconds every time.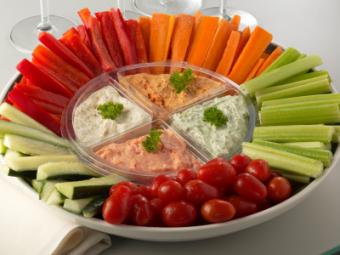 2. Homemade Hummus
Hummus is made from chick peas, which are rich in protein and on the complex carbohydrates list. This tasty homemade hummus recipe contains just seven simple ingredients: chickpeas, tahini paste, olive oil, lemon juice, garlic, salt and pepper. Serve this heart-healthy snack with fresh veggies or whole-grain pita chips to help prevent blood sugar swings when you suffer from hypoglycemia.
3. Oatmeal With Nuts and Cinnamon
Oatmeal isn't just a breakfast food anymore. Because of its rich fiber content, oatmeal (a complex carbohydrate) takes awhile to digest -- which is a plus when you suffer from hypoglycemia. Pair cooked oatmeal with protein-rich nuts, such as almonds or walnuts, and cinnamon for an extra burst of flavor.
4. Pita With Cheese
You can't beat simplicity when you're in a hurry or on the go. Try fiber-rich whole-grain pita bread topped with hummus, veggies if desired, and protein-rich Swiss cheese to create a low-sugar snack that helps you avoid hypoglycemia's unpleasant side effects.
5. Black Bean Salad
This delicious fiber-rich salad recipe is packed with healthy complex carbs like black beans and corn and is flavored with just the right amount of peppers, onions, cilantro, and other seasonings. Try eating this salad by itself for a snack or pair it with pita bread or whole-grain chips.
6. Greek Yogurt With Granola and Flaxseed
Pair protein-rich Greek yogurt with low-sugar granola and fiber-rich flaxseeds for a mid-morning pick-me-up when you feel blood sugar dropping. This combination of protein and complex carbs will surely help keep blood sugar levels in check.
7. Spicy Popcorn
Popcorn is fiber-rich with a low glycemic load, according to Harvard Health Publications, which means a spicy popcorn recipe may be just what the doctor ordered. This flavorful recipe is sure to be a hit, and it helps curb salt cravings. Popcorn, butter, garlic powder, onion powder, paprika, cayenne, and salt, are the ingredients in this hypoglycemic snack. Pair popcorn with nuts, seeds, or yogurt to add protein to this tasty treat.
8. Cottage Cheese With Crackers or Fruit
Believe it or not, cottage cheese contains a whopping 28 grams of protein in just one cup, making this protein-rich snack a winner for hypoglycemic dieters. Pair cottage cheese with fruits, nuts, or whole-grain crackers to add fiber to this nutritious snack combination.
9. Turkey Wraps
Healthy turkey wraps provide everything you need to keep blood sugar levels in check, including protein, complex carbs, and fiber. They're easy to make too. Simply wrap turkey, Swiss cheese, ranch dressing, lettuce, and tomatoes on whole-grain tortillas, and enjoy! This recipe also works well for hypoglycemic lunches.
10. Whole-Grain Bread With Peanut Butter
Because whole grains are ideal for people with hypoglycemia and peanut butter is protein-rich, this snack combination is an excellent choice for hypoglycemic dieters. Kids and adults alike will enjoy this quick and easy snack -- which also doubles as a lunch. Add low-sugar jelly to top it off, if desired.
11. Greek Quinoa Balls
This flavorful Greek quinoa ball recipe works great as an appetizer, and hits the spot between meals to steer clear of low blood sugar. The recipe calls for fibe, which can help with hypoglycemia. It also contains protein-rich quinoa, spinach, onions, olive oil, feta cheese, bread crumbs, and a variety of Greek herbs and spices. You won't be sorry for choosing this snack to keep blood sugar levels in check.
12. Hard Boiled Eggs With Veggies
Pair protein-rich hard-boiled eggs with high-fiber fresh veggies like carrots and celery to prevent blood sugar drops between meals. Dip veggies in ranch dressing, Greek yogurt, or hummus if desired. If hard-boiled eggs aren't your thing, try deviled egg recipes to spice things up a bit.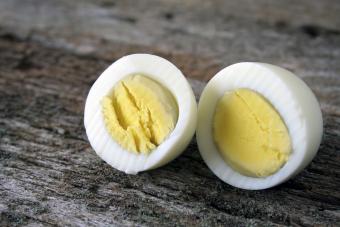 13. Fruit With Yogurt Dip
Fruit works well as a hypoglycemic snack due to its high fiber content, especially when paired with a protein-rich Greek yogurt dip. To make this refreshing yogurt fruit dip recipe, simply combine one container of Greek yogurt with 1 tablespoon of peanut butter, 1 teaspoon of vanilla extract, and 1/4 teaspoon of cinnamon (and mix well). Serve with fresh fruit -- such as kiwi, strawberries, apples, melons, pears, and bananas.
14. Cheese With Fruit and Nuts
Cheese works well as a hypoglycemic snack due to its high protein content, containing 7 to 8 grams of protein in just 1 ounce. Try a reduced-fat cheese of your choice and pair it with fruit and nuts to add fiber and carbs to your snack, which boosts satiety helps keep blood sugar stable.
15. Protein Smoothies
Choose protein smoothies when you're in the mood for a refreshing between-meal pick-me-up. Numerous protein smoothie recipes are available to choose from, but picking one for a hypoglycemic diet means eliminating high-sugar ingredients, like honey, agave, juice, and other added sugars. Pick ingredients that are protein-rich, like low-fat milk, protein fortified almond milk, soy milk, nut butter, and whey protein powder -- and blend together with oatmeal and fresh fruit.
16. High-Fiber Cereal With Low-Fat Milk
Cereal is often deemed a breakfast food but makes an excellent evening snack that aids in slow digestion to prevent blood sugar spikes or drops while you sleep. Be sure to choose fiber-rich cereals containing at least 3 grams of fiber per serving that don't provide added sugar. Pair cereal with low-fat milk, protein-fortified almond milk, or soy milk, which each provide about 8 and 10 grams of protein per cup.
17. Baked Tofu With Crackers
There are several ways to marinate and bake tofu, and this nutrient-dense vegetarian protein food goes great with whole-grain crackers as a hypoglycemic snack. Tofu is also sold pre-marinated and ready-to-eat, for times when you're on the go and don't have to time to bake.
18. Turkey Jerky With Fruit
Turkey jerky adds protein to hypoglycemic snacks, containing about 10 grams of protein per ounce. Look for lower-sodium varieties, especially if you have high blood pressure or heart disease. Pair turkey jerky with fruit to add carbs and fiber to your menu.
19. Chex Party Mix
Make your own homemade Chex mix for a quick, easy snack idea when preventing hypoglycemia is a must. This Chex mix recipe also works well as a party appetizer. Chex cereal adds complex carbs and fiber to this flavorful snack, and nuts provide you with a boost of protein. You can't go wrong when choosing Chex party mix as your hypoglycemic snack fix.
20. Fruit With Almond Butter
Spread almond butter on fruit, such as apples, pears, or bananas, to add protein and heart-healthy fat to your hypoglycemic menu. This tasty treat works well between meals to give you the pick-me-up you need to avoid low blood sugar.
Snack With Care
If you suffer from hypoglycemia, you might experience frequent blood sugar swings and suffer from side effects related to low blood sugar. When this happens, faintness, weakness, headaches, shakiness, confusion, and metal fogginess can occur. Fortunately, following a hypoglycemic diet can help reduce hypoglycemia.